One of the most important components of an electric skateboard is the wheel. To a stranger, it might not make sense. All a wheel does is roll. Why is it so important?
Different sizes, different tread and different types of wheel materials are suitable for different things. In today's article, I will answer these questions. After reading this, you will be well informed and know if wheels are suitable for your needs.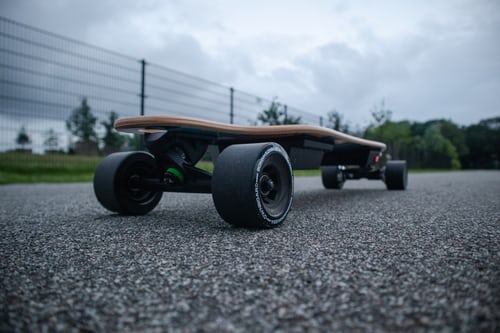 1.Hub Motor Wheel
First of all, I'd like to talk about integrated wheels and motors. You'll see them on many cheap electric skateboards. They are wheels with built-in motors. They are lightweight, super energy efficient, work quietly and are easy to manufacture, and you will see them mainly on long boards designed for streets.
However, because they are integrated, they use thin plastic or polyurethane as the tread. This will not provide as much shock absorption and smooth running as a proper wheel. They do not allow you to change wheels freely. You are confused about the motor attached to the motor.
2.Regular Longboard Wheels
You'll see that the wheels on the skateboard designed for the street are 70 to 100 millimeters high. The most common wheel size is 80mm and you will see it in the smaller 70mm. You'll see them used on the board with the belt motor.
When the wheels reach this height, they will provide a super smooth ride and perform well on rougher roads. They blow up pebbles, rocks, and gravel and roll over cracks.
Most of these wheels are made of polyurethane. This is a compact material similar to rubber/plastic.This makes them ultra-low maintenance and you only need to take care of the bearings.
It rolls better than rubber wheels, but has less grip than rubber wheels. They're not the best SUVs. In other words, they're the best choice for daily urban cycling, and they're best suited for small, portable vehicles.
3.All Terrain Wheels
With these wheels, you'll see a board like the All-terrain Yecoo GTS and other all-terrain electric skateboards.
These wheels are 9 inches or higher. They use large plastic or metal cores and pneumatic rubber tires. They are mostly used with belt motors, and it is rare to see a hub motor on all-terrain wheels.
Their large height and use of rubber tires make them ideal for off-road conditions. Their height makes them easy to roll over gravel, dirt, or even grass, where rubber can deform to enhance grip. There are even different pedals to help with the type of ride you want to do. Even on a paved road, they will provide a superior smooth ride to their polyurethane counterparts.
Using inflatable tires means you have to maintain them, make sure they don't get punctured and are always full of air. Rubber wheels do not roll as well as polyurethane wheels and do not have good vibration absorption. They will also be heavier because of their large size and reduced portability.
All in all, they are the best cross-country riders, but they may not ride in the city every day. If you don't mind their quality and height, they will treat you very well.
Do Bearings Matter?
Bearings affect the performance of your wheels and the speed at which they roll. You can tell if it's broken by how long it lasts and how loud it sounds. This is a sign that there isn't enough lube, so you need to add more or clean it first. Many people think that a bearing with a long rotation time is a good bearing, which is not true because it does not experience any real load. Under actual load, it will perform differently.
Generally speaking, the quality of the bearing is not important. Having said that, ceramic ball bearings and those with truck gaskets and bearing gaskets built in are worth the money (if not you can't make the mistake of exiting the bearings). Check out my guide to learn more about long board bearings.
The most important thing is maintenance. You will walk through water, dirt and dust. These will enter the bearing housing, affect the performance of the bearing housing. Water will make the bearing rust, dirt will make the bearing plug. My bearings guide also includes instructions on how to clean them.
Some Recommendations
Here are some of the best skateboarding wheels of 2020 that will improve your performance and give you a great skateboarding experience.
We've spent days giving you the best recommendations, so you won't invest in the wrong product.
1.Powell Peralta Rat Bones Re-Issue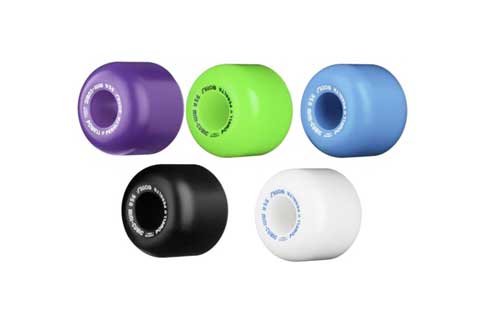 Powell Peralta is known for mass building, stability and traction. Their products are perfect for cruises, skate parks and pranks. Because they are soft, they are perfect for participating in stupid behavior.
This one uses natural formulas and features a broad outline for better stability and balance. Powell Peralta's regular wheels come with a 90A durometer, except for the black, which has 85A.
In addition, they are smooth, which means there is less surface friction, which makes them slide more easily. A trampled surface has more surface friction and therefore does not slide easily.
2.Orangatang Kegel 80 mm Downhill Cruising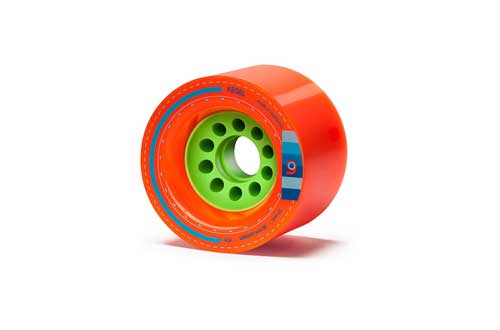 With a fairly large core, Orangatang Kegel is known for his large-diameter racing wheels. With a huge 88 mm high and 56 mm wide, this item has the ability to roll over any terrain and provides your best grip.
They use polyurethane to keep you from skidding out of the driveway.
Because it has a huge diameter, you get an extra balance of velocity, traction and sliding response. Its cantilevered outer lip hugs the road so tightly that you don't lose your balance.In addition, the shorter inner lip has a subtle inner bevel, making them perfect for race traction and some cool drift.
Its deep valley-shaped cross section is noteworthy because it reduces weight while providing better acceleration, momentum and crisp slip.
They have gone through years of testing and proving their durability and performance. You'll get the best grip and traction with this set of four under your skateboard.
3.C
loudwheel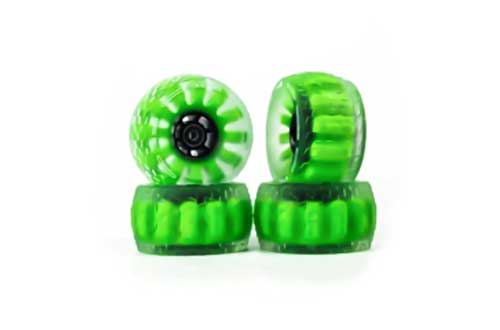 You can also take a look at the latest popular Cloudwheel. The IWONDER Cloudwheel which is a patent technology (damping core technology) electric skateboard wheel,the size is 120*64mm, durometer is 78a only.
Their core damping technology filters out most of the vibration more than a normal wheel, improves the ability to pass through, and even reduces the noise from belt drives.
Tread pattern and larger size also increase speed (105 seconds introduced and improved on MBS), so it can also be used on all terrain roads and urban roads.
ABEC 11 cores fit most electric skateboards, and they even made pulleys to fit the propulsion core. (So in general, it can replace MBS, and if you need a bigger wheel, it can push 105.)
Choose The Best Wheels For Yourself
How to install the wheels on a skateboard?
First of all, we'll start by removing the old ones. Care must be taken throughout, as you do not want to damage any of the parts that support the wheels. Otherwise, it will damage the skateboard or cost you extra maintenance.
The most important thing is to choose the right wheels for your needs. For example, if I commute to work every day and want a smooth ride, either PU wheels or rubber wheels will do, but if I want a compact electric long board, polyurethane wheels will be the best for me. If I want to be able to pick up the wheels I want to use, with motors with normal long board wheels will suit my needs.